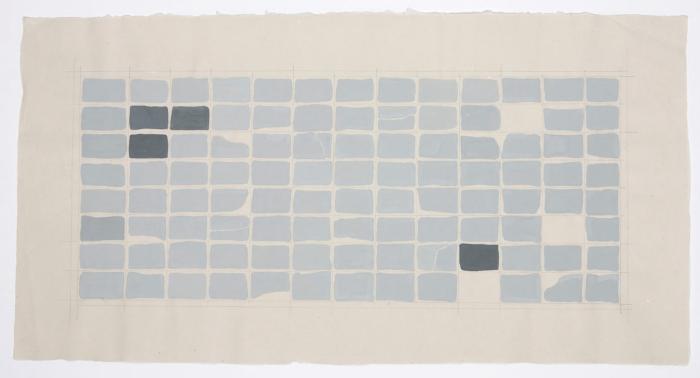 No Straight Lines
Kate Snow & Joe Sultan
March 30 – May 6, 2023 | Opening Reception: March 30, 2023
NYC
Susan Eley Fine Art is delighted to announce the opening of the exhibition No Straight Lines, a two-person exhibition featuring paintings on paper by Kate Snow, and sculptures in wood by Joe Sultan. The Artists' Reception will be on March 30th from 6-8 PM at our Lower East Side location at 190 Orchard Street. We hope you can join us!

Neither artist sketches or makes precise plans before creating. Instead, they let the process guide them. As exemplified in No Straight Lines, Snow and Sultan simultaneously acknowledge and free themselves from the grid and from architecture, respectively. Snow relishes in limits such as grids and color palettes; Sultan breaks limits such as the specificity, uniformity and structural integrity of building.

Kate Snow is based in Cleveland Heights, OH. She is known for her elegant paintings of grids in gouache and graphite on handmade paper. Intuitively placed and never uniform, the shapes—ovals, rectangles, dots and squares—are stacked one by one in hues of soft gray, charcoal and off-whites in her "Grids" and "Gravity" series, and brighter blues, yellows and reds in the "Monochrome" series.

Currently living and working in Germantown, NY, Joe Sultan was trained as an architect. Literally rooted in the nature of the Hudson Valley—the artist builds his sculptures with sticks and branches that he hand-cuts from fallen trees and logs. He uses a chainsaw and chisels to mine for the forms within each piece of wood, and next begins the additive part of his process: connecting and interweaving the fragments together to create sculptures that are sensitive to space—how it is enclosed, defined and balanced. His newest works depict specific memories—places and people—like his grandson in Joey and a trip to Brazil in Maragogi.
No Straight Lines will be on view from March 30 through May 6, 2023.
SEFA NYC is open Tuesday - Saturday from 11 AM - 6 PM.